Discussion Starter
·
#1
·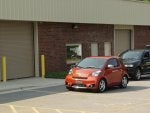 Just dropped my IQ off at Shrader Performance and home of
www.rearseatdelete.com
for R&D on fabricating a rear seat delete option for our IQ's. I was met by the owner, Steve Shrader, who put my car in their air conditioned garage and assured me that he would have this first prototype finished by this Friday. I will truly miss my baby while she's gone, but will use this time to give some much needed attention to my two Corvettes which I seldom drive, especially back and forth to work. The IQ became my daily driver, replacing an aging SUV that ate it's way out of house and home in gas.
I look forward to posting the results of this venture this upcoming weekend.
Here are the candidates to become my work transportation this week: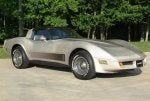 1982 Corvette Collector Edition
2006 Corvette Z06 in Daytona Sunset Orange. This was my inspiration for purchasing the Hot Lava Scion as I love this color.
Here is a couple of photos of my two car garage becoming a three car garage thanks to the IQ. Not an easy fit, but had to do it just to prove it could be done.