Discussion Starter
·
#1
·
So here's some snaps of my current ride. I bought it with my brother as the family car a few years back (My brother and I are roommates, Dad moved in with us when things got tight a while back. It was easier than all of us finding roommates we could tolerate), anyway the first thing I did was stick that badge on the hood...because dammit, it was my first car and I've always wanted to drive an autobot.
After that, the logos began to accumulate...
The dude with the epic beard is my dad. My brother is getting a motorcycle, I'm getting the iQ, so we both agreed dad should inherit the Bonneville (which he loves the hell out of anyway). Dad wanted me to take some pics for his facebook, and I figured I may as well share them here.
Broadside...I had to step practically out into the street to get it all in frame!
When I saw the rear wheel badge was coincidentally upright I just HAD to take a shot of it. I LOVE how those wheel badges meshed with the cogwheel design on the lug cover of the factory alloys. It was like they were made for it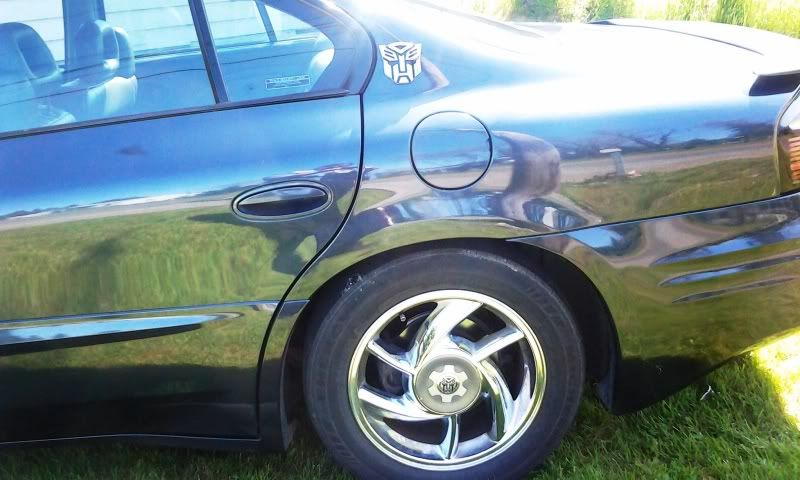 3/4 view. Dad looking like king pimp.
The tiny badge that started it all...
And of course, so tailgating Decpticons know to beware
For the record, I still love my big, luxurious Pontiac. Full leather interior, 6-way heated power seats with adjustable lumbar, supercharged engine, thumping sound system...but the 18mpg in-town mileage is killing me, and it's such a pain to park sometimes!
Besides...since day one it was never really mine, it was the family car...We're all geeks so the badges were considered cool but I knew at the end of the day it had to be something everyone liked. The iQ, cliffjumper, will be all mine. My first new car, mine to customize and pimp out and render completely ridiculous as I see fit.