I don't know if anyone else in forumland is a gun owner, but as the liberal black-sheep in a family of gun-toting midwesterners I've found there's some traditions I just can't shake (a 'you can take the boy out of the farm but you can't take the farm out of the boy' thing), and one of them is that guns are fun. Guns. Are. Fun. It's like being able to play with fireworks every day. Guns are also useful. I hope I'll never need mine, but it's good to know I have the power to defend myself from just about anything from muggers muggers, to zombies, to militant tea-partiers (hey, if they can have guns, why shouldn't I?)...I don't have the time, build or attention span to learn a martial art but goddamn I can take a couple hours every week to go play with fireworks at the pistol range, and I'm a decent shot if I do say so.
But I'm not here to discuss the politics or morality of walking around with a pocket full of whoopass, I'm here to talk about what brand of whoopass you prefer.
So what kind of gun do I favor?
Why, a premium micro-compact, of course!
Meet Winona...my customized, personally-midified Kel-Tec PF9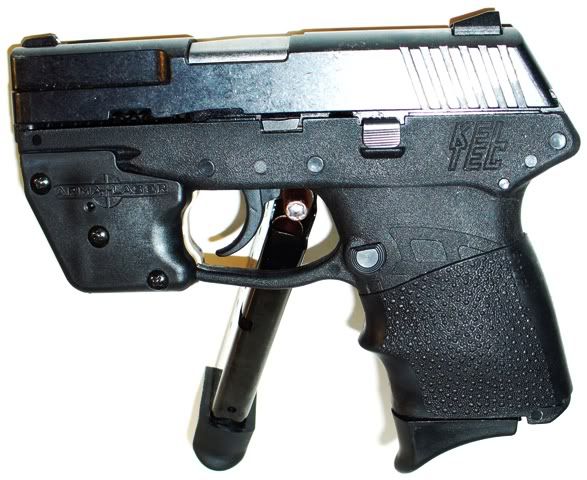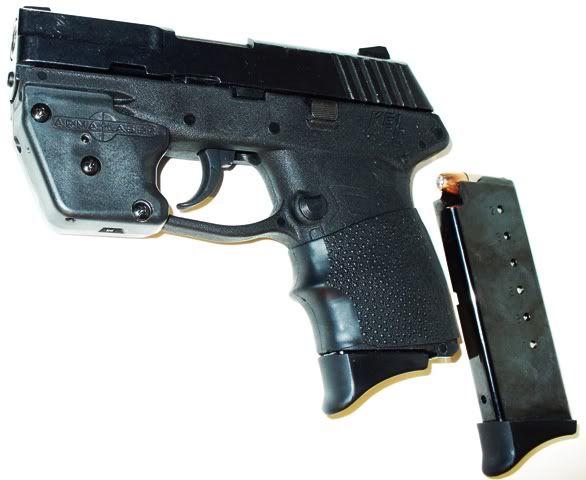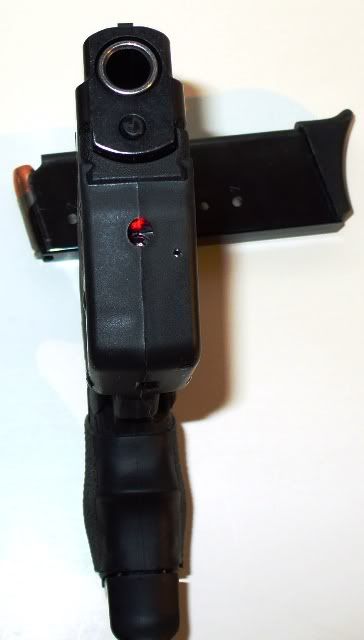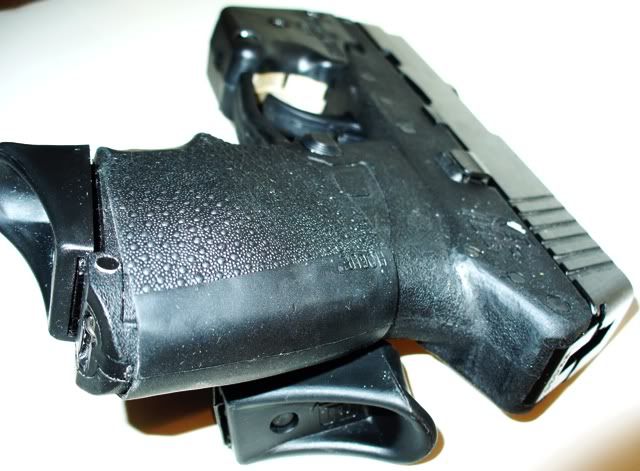 Here's what she looked like stock
so tiny!
Mods
* Custom 'small-block' laser module from Arma-Laser, designed specifically to help break up the outline of the gun in your pocket (and help it more securely fit the contours of a standard front pocket), inductive touch activation plates turn it on the second my finger goes inside the trigger guard.
* Personalized cut-to-fit Hoague Hand-All Jr slip-on grip (had to trim it down to fit the small size)
* Hand-Modded grip-extensions on the magazines. the stock grip extension for the PF9 was waaay too short to be effective for my medium-sized hands, so I snagged a pair of extensions for a Kahr PM9 then pains-takingly cut and drilled and filed the channels until they fit perfectly for my little Kel Tec
* Specially modified Uncle Mike's size-4 pocket holster (keeps it secure and protected in the pocket, designed to grip the inside of the pocket so the gun comes free but not the holster. I cut out part of the side on mine so I can get my finger into the *back* of the trigger area (behind the trigger itself) to help free it from the holster)
* Hand-blued barrel/breech...because shiny metal on a lovely black gun just doesn't look right.
Factory Specs
| | |
| --- | --- |
| Calibers: | 9mm Luger 9 x 19 mm |
| Weight unloaded: | 12.7 oz. 360g |
| Loaded magazine: | 5.5 oz. 156g |
| Length: | 5.85" 149mm |
| Height: | 4.3" 109mm |
| Width: | 0.88" 22mm |
| Barrel Length: | 3.1" 79mm |
| Capacity: | 7 + 1 |
| Trigger Pull: | 5 lbs 22.2N |
The slimmest, lightest 9mm handgun available. Small, efficient, heavily modified and able to go just about anywhere in-town without making people get out of the way. The perfect match for my iQ, no?
And yes, she was named after John Chrichton's gun from Farscape. Why? Because to me at least with the laser module she kinda looks like a peacekeeper pulse-pistol