Not sure if this is the right forum to post this and if not, my apologies. The kids have been quite excited and supportive about my new car despite the much smaller size (I had a large SUV previously). So, given that they love LEGO, I decided to build them an iQ to play with. I used the Town set #3177 as the base then substituted pieces for colour match and fit: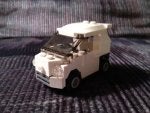 Had to extend the bonnet from the stock #3177 plans, which were obviously based on the Smart.
Making the spoiler and rear look right was a royal pain in tush and I've still not gotten it right yet.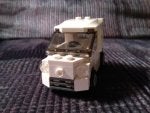 Managed to get the little Scion symbol/knob on.