Discussion Starter
·
#1
·
CONGRATULATIONS!
cliffjumper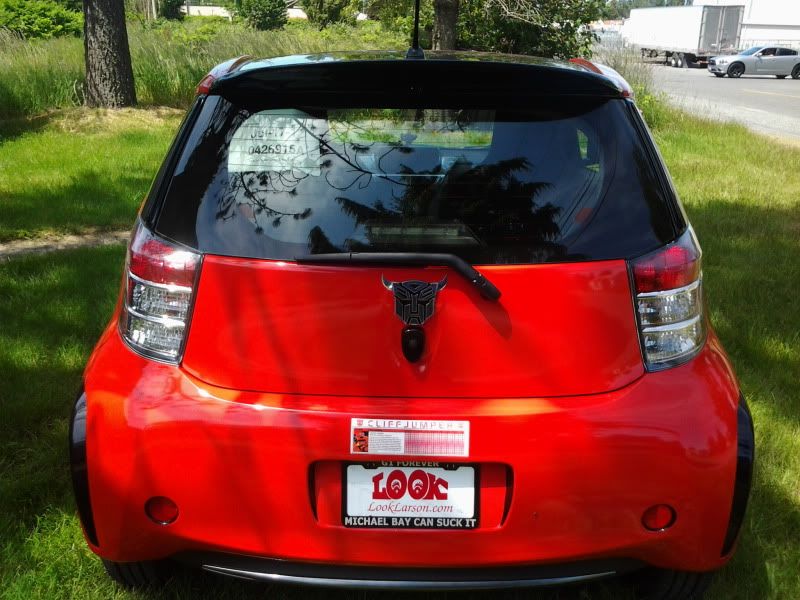 Mods:
Dealer Upgraded Stereo
Dealer Installed TRD Sway Bar
Dealer Installed Spoiler
Self-Installed Factory Floor Mats (Hey, I paid extra, they count!)
Ultra-Swank custom red and black wrap with Super-Swank Autobot logo graphics

Diamond Select Cliffjumper mini-bust
(For dashboard.)
Vintage Transforming Cliffjumper Keychain
(For keys.)
Pilot Six-Gun Shift Knob
(For shifting.)

Dodgy Bulgarian Armrest
(For resting dodgy Bulgarian arms.)

Illuminated Front and Rear Autobot Badges
(Hey, they're technically installed! They're attached to the vehicle, even if they aren't quite hooked up yet)
Custom Cliffjumper Tech Specs
Bumper Sticker from Cafepress
(All you need is a piece of transparent red plastic and you can even read his stats!)
Takara Device Label Transforming Ravage Thumb Drive
(Crammed full of Stan Bush mp3s)
Custom Engraved Anodized Aluminum License Plate Frame
(For telling Michael Bay to suck it.)
What else...
Oh! I put autobot stickers on my key too!
​