Thanks for the very good pictures and comment.
The iQ headlamps are well adjusted and there is no need to screw/twist around. The high position of the mainlight and the short wheelbase is tricky.
A real problem is the leveling unit (HRA). T
his is missing.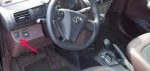 In Europe all cars must have a headlamp range adjuster (HRA) switch on the dashboard.
You are able to adjust (if you have load / passengers on board) the beamsetting in (variable) 4 positions.